For as long as I can remember, car detailing accessories have been given the same level of attention as basic janitorial supplies. Visit your local auto parts store or large retailer and you will find hordes of cheaply made brushes and inexpensive sponges and towels that all look the same, but have different packaging. Innovation in the car detailing accessory industry was limited to new colors and eye-catching packages.

As a serious enthusiast, I would allow very few "retail detailing tools" in my car, let alone put them to work detailing it. Fortunately, a few specialty catalogues source brushes, wash mitts and towels that are more in tune with the needs of the enthusiast detailer. They just cost an arm and a leg.

About five years ago, the OXO company, famous for its kitchen utensils, released a new line of brushes and dusters. When introduced, OXO's detailing accessories were far and away the single largest improvement in brushes and dusters in more than 25 years. They applied their unique ergonomic, soft handle technology to properly designed brush and duster heads to establish a new mark of excellence in detailing tools. Unfortunately for OXO, a barrage of microfiber towels and accessories overshadowed the significance of their vastly superior bushes and dusters.

Since the OXO tools were introduced, a few companies have come to market with more interesting soft handles, contoured brush heads and more bright colors, but nothing revolutionary. That is, until now.

Meguiar's Introduces Gold Class Accessories
Early this year, Meguiar's introduced and started shipping the first complete line of detailing accessories in the company's history. Their new line of brushes represents, from what I can see, a whole new way of thinking about detailing tools. The new Meguiar's brushes are ergonomic, functionally superior and attractive. Meguiar's applied critical thinking and innovative design to push past clever marketing gimmicks, delivering superior functionality.

When I met with Dick Koeth, VP Strategic Planning for Meguiar's, Inc. 18 months ago, he hinted that Meguiar's was interested in the accessory market. According to Dick, "The industry as a whole is lacking in design innovation. Meguiar's will enter this market if it can redefine the state of the art for the car enthusiast. We will not come to market with another me-too line of accessories."

Meguiar's sales and marketing chief, John Dillon, explained to Better Car Care what Meguiar's and its design team went through to bring the new Gold Class accessory line to market. "Meguiar's did in less than eight months what takes most companies two years!", Dillon said. "We pulled together a team of Meguiar's staff, designers and extreme car detailing enthusiasts who worked on this project with no limits thinking.", Dillon says "No detail was overlooked." John Dillon, previously with Eagle One and Saleen Performance, Inc., is himself an extreme car enthusiast who suggests "Meguiar's did not look at the mass market input, but rather worked closely with car hobbyists to establish and understand the requirements for a proper set of detailing tools."


The Perfect Shine co-owner, David Ostroff (right), gets a lesson on drying towel technology from Jeff Shipley (left), Meguiar's Accessory Product Manager, while Jon Wilson (rear) studies the new line.
Meguiar's Gold Class Brushes
The new Gold Class brushes are an outstanding achievement for Meguiar's. Where possible, each brush was designed to be multi-functional or adjustable. The Versa-Angle brush handle, for example, is reversible to change the angle between the brush body and the handle. The result is a brush that can be comfortably used in all situations. For instance, the wheel brush works equally well on wheels with a flush face and those with a deep offset. Reversing the handle on the Body Brush makes it possible to scrub the bottoms of rocker panels and under the rim of wheel wells without having to be a contortionist.

There's more to this new line of brushes than just the Versa-Angle handles. Meguiar's design team established new standards for brush head quality and design, too. Each brush has a specific purpose in mind and the proper characteristics to accomplish a task. The wheel brush, for example, has much longer bristles that are set at steep angles around the rim of the brush. The result is an even flow of bristles that properly arc across the top. The result is a brush that can reach the nooks and crannies of modern wheel designs, yet cleans more wheel area with each brush stroke.


The Versa-Angle handle on the Body Brush (top) and Wheel Face Brush (bottom) is long enough to make bending over and stooping down a thing of the past. The reverse angle on the Body Brush makes it an ideal tool to reach rocker panels and under wheel well arches. The long, flag-cut bristles offer scratch-free use even on the most delicate finishes.
For the car enthusiast, brush functionality is second to safety. No matter how useable or functional, a brush that scratches a surface is unacceptable. In this arena, the new Gold Class brushes shine. Meguiar's really took the time to understand surface safety issues. Each brush has soft rubber impact barriers that prevent the tool from doing damage when it strikes a finish, such as your paint or polished aluminum wheel. All brush heads have bristles designed to do no damage when used on the intended surface. Some brushes have specialized safety features, such as the Tire Brush, which has a row of soft, wheel-safe bristles guarding stiff bristles. This allows the brush to be used to deep scrub the tire without fear of damaging a fine wheel.

I asked John Dillon if there were any difficulties in creating the new line of brushes. He intimated that the number one stumbling block for the project was finding manufactures who could build the brushes to specification. According to John, "Most of the traditional manufacturers in this industry laughed at us and said it couldn't be done. We insisted it could and pressed on to establish the right manufacturing partnerships." John continued, "Most of the manufacturers we visited claimed they did not possess the skill or technology to maintain the high tolerances required by the Versa-Angle handle design."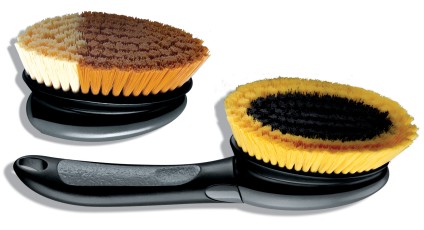 The Meguiar's design team really showed they were thinking with these two brushes. The Interior Brush (top) has stiff and medium bristles mounted at offset angles. The angle change keeps the stiff bristles out of play until you turn the brush around. When you need extra scrubbing power to remove a carpet or upholstery stain, the power is a flip away. The same kind of thinking went into the Versa-Angle Tire Brush. The outer row of soft bristles protects your fine wheel from the stiff inner bristles that are perfect for deep cleaning dirty tires.
Meguiar's Gold Class Towels and Chamois
With the introduction of the new Gold Class accessories, Meguiar's debuts their third generation of microfiber detailing towels, which now includes a drying towel, buffing towel and glass towel. The most interesting of these is the new Duo-Fiber Glass Super Towel. Duo-Fiber is the term Meguiar's has given their patented cotton/microfiber fabric blend. The towel has incredible absorbency and cleans glass to a streak-free finish. We tested this towel along side three other glass specific cleaning towels and none compared.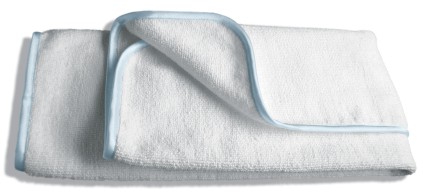 If you're a fanatic about spotless glass, you're going to love the Meguiar's Duo-Fiber Glass Towel. It's the only glass towel I have ever tested that cleans glass as well as newspaper (without the mess!). The dual fiber design really works to wipe glass streak free.
A fun gizmo in the new Gold Class lineup is the Microfiber Quik Detail Pad. The detailing pad is essentially a bone shaped sponge wrapped in super plush microfiber. You use the pad, in place of a microfiber detailing towel, along with a detailing spray to wipe down your vehicle. I was a bit skeptical until I tried it, and was amazed with the results. It's easy to hold and wipes paint and glass to a spotless finish. The sponge core pulls away excess detailing spray, keeping the material perfectly damp for a good wipe down.

I was most surprised and delighted to find a new and improved cotton detailing towel. The Gold Class Ultra Plush Super Terry towel lives up to its name. It is the thickest, most luxurious cotton toweling I have ever come across, and would be a welcome addition in any 5-star hotel spa. Here again, Meguiar's raises the bar by binding the edges with a satin binding material to prevent scratching. The plushness of this towel surpasses all but the finest and most expensive buffing towels.


The new Meguiar's Ultra Plush Super Terry towel lives up to its name. This towel is very plush, soft and is a delight to use for waxing, buffing and quick detailing. The towel comes pre-washed, but seems to get even softer after a few washes.
For drying, the Gold Class line now includes a range of products to meet every demand. My favorites are the Water Magnet Drying Towel and the Microfiber Super Suede Drying Cloth. The Water Magnet Drying Towel follows in the path of the best microfiber waffle weave drying towels. It's a generous size, and like all of the new Meguiar's towels, its plush fabric is bound with a satin binding to prevent scratching. The Microfiber Super Suede Drying Cloth is a synthetic chamois that offers all of the benefits of a natural chamois, but none of the drawbacks. If you are a traditional chamois lover, you will really like this new towel. It's super thirsty and unlike a traditional chamois, it's very easy to wring out. The only thing missing is that new chamois smell.



Traditional leather chamois users will love the new Super Suede Drying Towel. It feels like a chamois and works like a chamois, but it's easier to wring out and care is as easy as washing and drying.
Meguiar's Gold Class Wash Mitts
I was dreading getting to this part of the story. After all, how much can you say about a wash mitt? To find out, I decided it was necessary to do a side-by-side test with some of my favorites.

A lot of personal preference goes into the selection of a wash mitt or sponge. Meguiar's offers a full range of Gold Class mitts and sponges, including the Ultra Plush Wash Mitt (synthetic wool), Deep Pile Chenille Wash Mitt, Ultra Plush Chenille Wash Pad, Professional Grade Wash Sponge, and the Ultra Plush Wash Mop.

My personal preference has always been a genuine wool wash mitt. I like the way they feel, and I have never experienced swirl marks or other negative effects from a real wool mitt. I was highly impressed with Meguiar's Deep Pile Chenille Wash Mitt, which has a superior feel to it and seems to glide across my paint effortlessly. This mitt has replaced my wool mitt as my wash tool of choice. It's large, hold gobs of soapy water and washes out freely to release dirt and grit.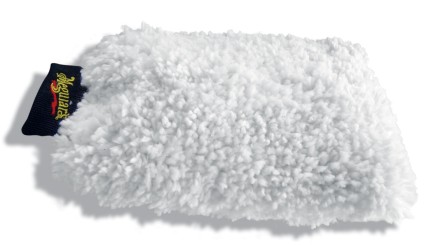 My personal preference in wash mitt material has long been genuine wool. The Meguiar's Deep Pile Chenille Wash Mitt has a superior feel and washes out freely for a scratch-free wash, making it an excellent choice.
Perhaps my best find of the day was the Meguiar's Ultra Plush Wash Mop. I first looked at the device with trepidation, as it reminds me of the local corner car wash, where a guy named Buddy, Billy or Mac stands armed with a bucket of wash water and a scrub brush on a stick. After I shook this image from my mind I could see the true utility of this little gem. Unlike a traditional wash mop or brush on a pole, the Gold Class Ultra Plush Wash Mop is mounted to a fully articulated swivel joint connected to a telescoping pole. With one use I was hooked. I'll never get out a step stool again to wash and dry the top of my SUV. The Versa-Angle handle arcs up at just the right angle to keep the wash mop head flat when washing flat, overhead surfaces. I use it to dry the top of my SUV by wrapping a drying towel around the mop head.

The head on the Ultra Plush Wash Mop rotates and articulates, allowing it to remain flush with the body panel you're washing. As an SUV owner, I find this mop to be an indispensable tool that takes the drudgery out of washing a tall vehicle.
Gold Class Finishing Detail Brushes
After spending a day at Meguiar's, I had a real chuckle looking in my bucket of detailing brushes. John Dillon explained that the goal of new Gold Class final detail brushes was to replace the "home made" detailing brushes found in the detailing kits of many professional detailers and serious detailing enthusiasts. Indeed, I have a few "custom" paint brushes that I have cut to length, shaped and wrapped with tape.
The Meguiar's Gold Class line now includes two final detail brushes worthy of discussion. While multi-function final detail brushes are not new, the Meguiar's approach is unique.
The Slide Lock Detail Brush is a full-size, paintbrush style detailing brush that is completely safe to use on and around all car finishes. It's uniqueness comes in the form of a slide lock that surrounds the bristles. When the slide lock is all the way down (bristles fully extended), the brush is soft and flexible for dusting vents or deep cracks and crevices. As the slide lock is pulled up, the bristles are effectively shortened to create a much stiffer brush for removing stubborn particles.
The Gold Class Triple Duty Detailing Brush is a small final detail brush with three specialized brush heads. I have had the chance to use it only once, but quickly discovered it goes where no other brush has gone before (like all the way inside my vents and deep into the seams of my upholstery!).
The head on the Meguiar's Slide Lock Detail Brush (top) slides up and down to shorten or lengthen the natural bristles, effectively adjusting brush stiffness. The Tripe Duty Detailing Brush (bottom) has three unique brush heads that allow you to make quick work of vents, upholster seams, console nooks and crannies, and exterior trim.
Thanks to Meguiar's, my detailing kit just got a bit lighter and less cluttered!
Summary
I'd like to thank the Meguiar's team for taking the time to educate the Autopia Car Care crew on their new line of detailing accessories. Each new tool is unique and offers a significant contribution to vehicle finish safety, versatility and detailing pleasure. With the new Gold Class line of accessories, Meguiar's has established a new standard of excellence. This is a clear benefit for both the car enthusiast and the car care industry.

The new Meguiar's Gold Class accessories are available on-line at Autopia Car Care.