---
Many of us have wondered why after installing the front crankshaft seal, it seems to fail quickly. I have created a tutorial on replacing the crankshaft seal using a cheap and effective special tool that overcomes seal seating issues. This tool is nothing more than a modified plastic cup that is used to guide the seal to a proper seating on the spacer ring.
whunter
is the one who uses this trick, and I thought that all of you in 617 land could use this tip.
Please excuse the crude nature of the renderings that Ive created to illustrate the steps...
Prepare the Patient
We will start the tutorial at the removal of the old seal. Clean the mating surfaces of all oil and debris with Carb & Choke cleaner. These areas must be completely free of oil before seating the seal. Failure to do this may accelerate the failure of the seal.
Step 1, Building the Special Tool
a) Find a plastic cup of 8oz (170g) plus or minus in size. I used a plastic yogurt cup.
b) Cut your cup. Cut off the top most half and bottom half. Cut vertically.
c) Break (smooth) all of your newly cut edges with 400 sandpaper. These edges, if not smoothed can cut your new seal.
Step 2, Using the Special Tool
a) With very clean hands, lube the ID (interior diameter) of the seal with ATF with a cotton swab. Think surgery.
b) Insert special tool in the ID of the seal. Aim flared side of tool towards the crankshaft.
c) Cover the spacer ring completely with the flare of the special tool.
Step 3, Seat the Crankshaft Seal
a) With the Special Tool completely covering the spacer ring, press the seal into the seated position. The seal will slide into position, and the inner lip of the seal should be perfectly seated because of the Special Tool. This is the purpose of the tool.
Here's an actual picture of this method from
whunter
: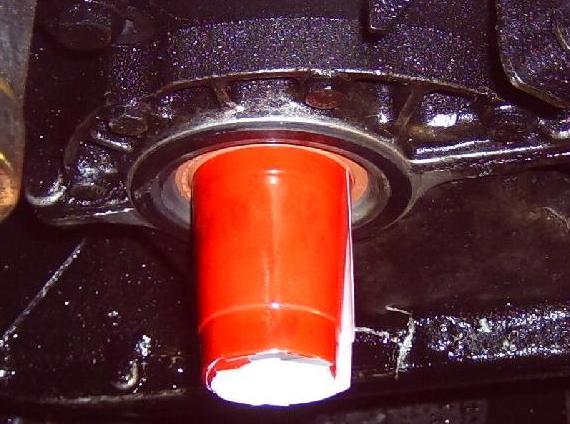 Step 4, Withdraw the Special Tool
a) Remove the special tool leaving the crankshaft seal behind. It should come away without any effort.
You are finished. No sealant needed, and the inner lip of the seal should have a proper seating on the spacer ring. This improper seating is often the cause of the rapid seal failure.
It should be noted that if the spacer ring is not damaged, it does need to be replaced.
Yes, imagine the crankshaft is inside the block...
-brianzero
Discuss this DIY here.
---
CategoryDiy