---
I have a 2004 SL600 (R230) and both my starter battery and electronics battery are dead because of age, the cold weather, and I let it sit too long. I took the starter out with ease. I had NTB check it and they said it was dead and could not be recharged (I had tried before hand to charge it for an hour with a car jump and also a plug in battery charger). I bought a new one from the Mercedes parts dept and have not put it in yet because I want to get a new electronics battery. It was going long before the starter battery.
I was going to go the MB assistance route because everyone said it would be the cost of the battery for them to come out and replace it, but the MB roadside tech said there is a $$$$$ service charge to come out, so I opted for phone support.
Removing the electronics battery is not in the Factory Service Manual = FSM.
The MB assistance Technician said I need to remove one bracket with 13 mm fastener, and the other bracket has 10 mm fastener.
The battery should come right out.
From the top view, it looks like the battery is sitting on top of a holder, but actually it is the bottom bracket holding it in (see pic bottom bracket).
Here are the steps (you can see want you have to take out in picture trunk view).
1.
Remove the Negative terminal with the 10 mm socket wrench (in FSM).
2.
Remove the Positive Terminal with the 10 mm socket wrench (in FSM).
3.
Remove the a T20 Torque Star wrench because you can't take out the top bracket without making the cover loose.
4.
Remove the Top Bracket with the 10 mm combination wrench or Box-end wrench (can't get it with a socket wrench; see picture top bracket).
5.
Remove the Bottom Bracket with the 13 mm socket wrench (you may have to remove the tire to have access to the 13 mm bolt if you don't have a long socket wrench; I had to do that with a 13 mm combination wrench).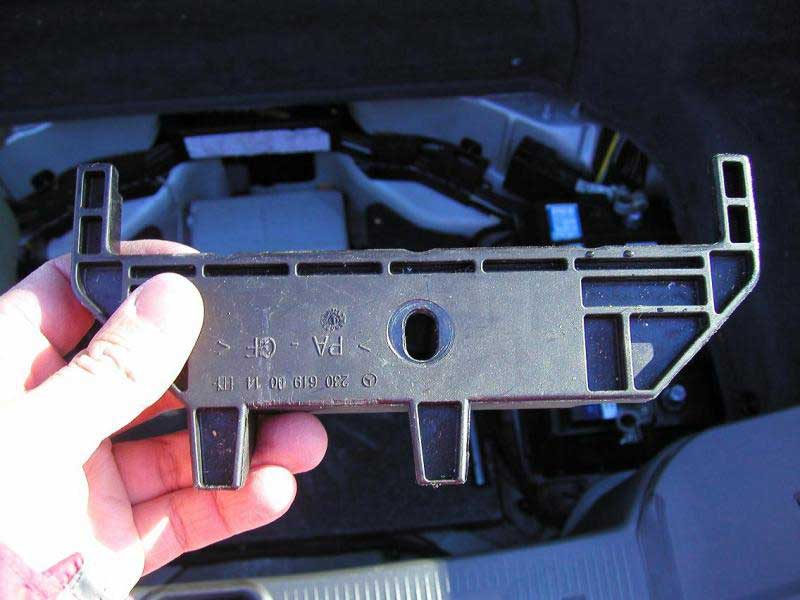 6.
Pull out the old one and put in the new battery.
7.
Connect the Positive Terminal with the 10 mm socket wrench (in FSM).
8.
Connect the negative terminal with the 10 mm socket wrench (in FSM).
9.
Install everything in reverse order.
Hope that helps someone in the future
Discuss this DIY here.
-mySL
---
CategoryDiy