---
As my 2nd formal "Wikka" I am again dealing with making a simple, repair to something plastic on our vintage W123 chassis Mercedes but this project involves working with "ABS" plastics which present a whole new challenge in chemistry... and also holds great promise in helping to learn how to make repairs to hard plastic interior trim pieces commonly used in these vintage W123 MBZ(s).
In any event I sought out the expertise of my local plastics specialty shop here in California [ browse
http://www.TapPlastics.Com
] where they correctly identified my interior trim piece as mostly being made of "ABS" plastic and also suggested I do a small test on a piece before jumping into my project... and gave me other hnts. Where you can, it is best to use thin pieces of sheet "ABS" reinforce the back side of cracked and broken pieces. These thin pieces can be literally "fused" onto the piece being repaired. Common black drain pipe cement [ actually a solvent ] is a good choice, especially where the repair will not show through objectionably onto a finished surface of the repaired piece. There are also clear, more expensive, bonding/fusing "ABS" cement products available.
For this project I used smaller pieces cut from a small $1.00 remnant of "ABS" sheeting [1/32"] purchased at Tap Plastics and ordinary black "ABS" cement from the local hardware store.
This project was on a 1980 300D [W123] and from my "Indy" MBZ friend I understand that the failure mode of our glove box door latch was clearly the most common type of failure in this W123 chassis series. The latch just dose not engage and hold the door closed. So yes it's best that you remove the entire door and then the plastic back panel and do your own failure diagnosis and then IF your panel is broken or worn such that the "U-shaped" latch spring will not stay in place... then you can decide whether you want to replace the panel or make this fairly simple repair and gain valuable "ABS" plastic repair experience. Reading the remainder of this Wikka might help you do your diagnosis.
Yes this inner panel has the MBZ part number embossed on it [P/N - " 1236890583 "] however my local MBZ dealer's parts counter indicated that I would have to purchase other latch parts as well in order to get the panel [~$60]. These metal latch pieces are usually not broken. But armed with this P/N you should be able to find this panel [ aka "Inner Glove Box Door " ] for ~$25+s&h.
So let me move on with my easy repair to this most common door latch failure that was on our 1980 300D... namely one or two of the small plastic posts [ in nautical lingo "dogs" ] on the panel... these "dogs" either break off or become worn down and "dog-eared" such that the "U-shaped" flat door latch spring will no longer stay in position. Photo #1 below shows what a new panel's "dogs" look like:
Photo #1
Moving on to what I think is a better view [Photo #2 below] that shows our actual panel during repair and the text and arrows in this photo help to explain what was done. Once you see and understand how the latch mechanism works and how the "U-shaped" spring must be held in position, the repair I made will make more and more sense. It's just a matter of cutting/fitting and then fusing plastic strips onto the back of the panel to replace the function of the one or both "dogs" that might have failed. I chose to fuse two 1/32-inch "T(s)" on top of one another as shown for extra strength. This was probably overkill! Keep in mind that this is all on the back side of the inner panel and so appearances are of little consequence here as the repair will be hidden when you put the door back together... function is what matters here !
Photo #2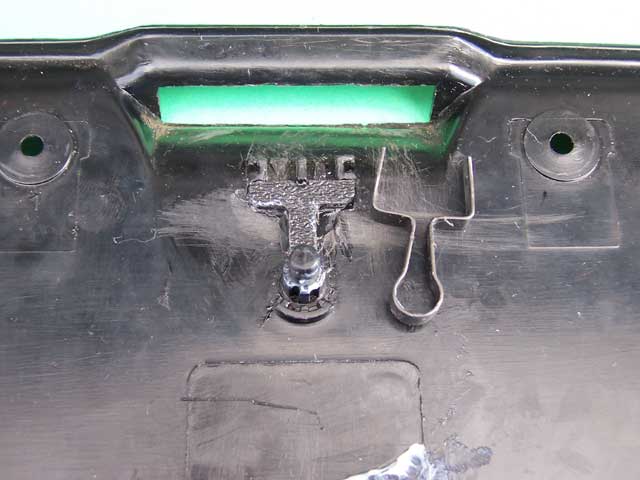 IF some of you DO seriously think this Wikka needs more in the way of text explanations and/or photos, let me know via the comment link below or personal mail [PM] on the FORUM and I'll see if I can incorporate your ideas in a future revision/update to this Wikka!
Regards,
-" Samuel M. Ross " [ my handle on the FORUM ]
---
CategoryDiy