---
W123 seat - replaced horsehair with noodles
I finally got the passenger seat out. It takes two people, one to hold the side handle up and one in th rear pushing the seat forward. When it goes it exposes the two 10 mm bolts in the rear. the front ones are easy to find.
I have put a series of 20 pics describing the whole process.
I replaced the horsehair with polyester filing - similar to scrubby pad material.
I used pool noodles to keep the seat springs stiff as recommended by the forum.
The poly filing worked well. The passenger definitely sits alot higher now. There is very little compression when weight is put on the seat. It feels different then the horsehair, but 100% better, no more sliding off the front onto the floor.
I have now to do my driver side.
I hope this helps.
Materials:
---
polyester filing $10
pool noodles x 2 = $3.25
time: 4-5 hrs - including screwing up
feeling on ass: priceless
---
1.
push seat forward using both handles and remove rear 10mm bolts
2.
remove front screws and pull whole seat out
3.
remove track system, 2 philips screws each side
4.
clean horsehair from interior floor & shampoo
5.
remove upholstery by pulling edges out-helps to sit on cushion
6.
horsehair pad - no tex
7.
pull away horsehair
8.
discard nasty horsehair
9.
all 3 seat pieces & replacments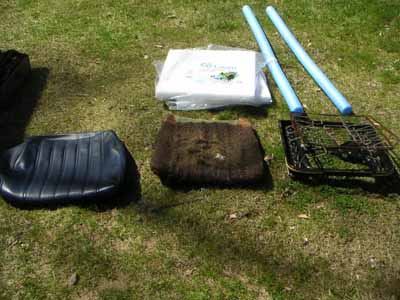 10.
poly filling replacing horsehair
11.
cut poly to same size as horsehair pad
12.
stretch springs first, then add pool noodles
13.
I added a 2nd pool noodle
14.
springs with 2 noodles
15.
cleanout inside of tex fabric
16.
I added two half noodles onside to create ridges
17.
bottom view after reassembly
18.
seat reassembled upright-good time to test
19.
shampooed interior floor
20.
finished and installed from pass side
- hos280
---
CategoryDiy