---
A common problem in older Mercedes is the electric sunroof. Often it will not close fully and will make a grinding sound when it is nearly closed. This problem is caused by a worn sunroof gear box or stripped cable. This pictorial was written using a late W123, but the process will be nearly identical for early W123s with the square motor and for other chassis as well. Here is how to fix the problem:
---
1)
With sunroof halfway open unclip the leading edge of sunroof headliner. Use a dull knife to help pop clips free
2)
Slide sunroof headliner forward and out the top of the sunroof opening.
3)
Remove the locking clip from the front of the sunroof cable.
4)
Using gentle pressure to hold the cable and tube down away from the sunroof and use the motor or emergency crank to advance the cable forward until it reaches the wind deflector.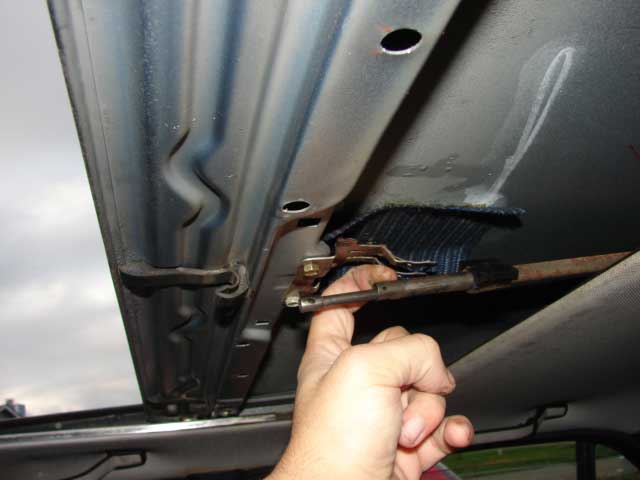 5)
Remove the driver's side trunk liner. There are several clips that will need to be popped free before it will come loose.
6)
Unbolt the sunroof motor and bracket (red arrows) and unclip guide tubes from motor (green arrows). Disconnect the power plug and remove the motor.
7)
Push the cable backwards until the teeth are exposed and carefully examine them.
They can become flattened and worn and not engage the gearbox properly. If the teeth are worn extract the cable through the sunroof opening and replace it with a new cable. Use Mercedes sunroof grease on the new cable when installing the new cable.
8)
If the teeth on the cable look good, the problem is probably the gear box. Install a new or good used gearbox and reinstall the motor. Once the motor is bolted to the car, clip the guide tubes back into place. Don't forget the rear guide tube!
9)
Press the sunroof cable backwards until you feel resistance, then use the motor to pull the cable backwards until the end is near the front of the guide tube.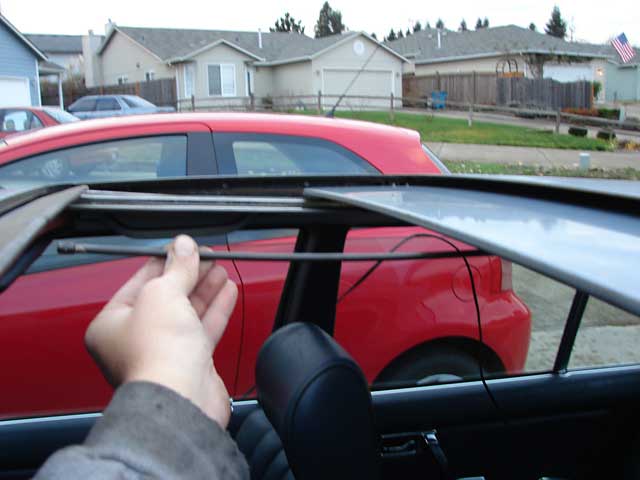 10)
Take note of the orientation of the hole in the cable. The hole is larger on one side. The larger side of the hole will need to be toward the passenger side of the car. Twist the cable to align the hole properly, then slide the cable the rest of the way into the tube. It may be easier to slide the sunroof by hand to align the holes rather than use the motor.
11)
Reinstall the locking clip.
12)
Test the operation of the sunroof.
13)
Slide the sunroof headliner back under the sunroof the same way it was removed. Be sure both sides of the headliner enter the tracks when it is being slid into place.
14)
Clip the leading edge of the headliner back into place using firm pressure under each clip.
15)
Reinstall the trunk liner. The rear guide tube clips to the liner near the top.
---
-bgkast
---
CategoryDiy