---
This applies to most all W124 and W126 models with electric seats.
---
Hello ,
I have recently taken apart my W124 seat switch and cleaned all the connections. I thought that I post pictures because if the switch is taken apart sometimes all parts fall out and it's tricky to put it back together.
It's really quite simple but pictures always help.
1.
Unscrew the philips screw from the back
2.
Use a flat blade screwdriver and release all tabs that hold the upper cover
but make sure that the seat switch stays flat on the table while you
pry.If somehow the covers lifts and you start hearing the steel balls
rolling around that's ok.You'll see soon how it all goes back together.
3.
Once the cover is off it should all look something like this
4.
The steel balls are on resting on top of the springs and under the springs
are the same steel balls.
5.
There are 9 springs (1 hidden under the head rest lever). Head Rest lever
doesn't have tab ( part x in picture ). There are 8 tabs on which I cleaned all contact points with 1500 grid sand paper.I cleaned all the balls and put it all together with the help of my wife's tweezer. When putting the cover back on make sure to insert the green button and 1 and 2 buttons into the cover itself and then put cover back. Those buttons don't stay straight on the white plastic and keep tipping over. Hope this will help someone someday.
6.
This lever has to be pryed out lightly as pictured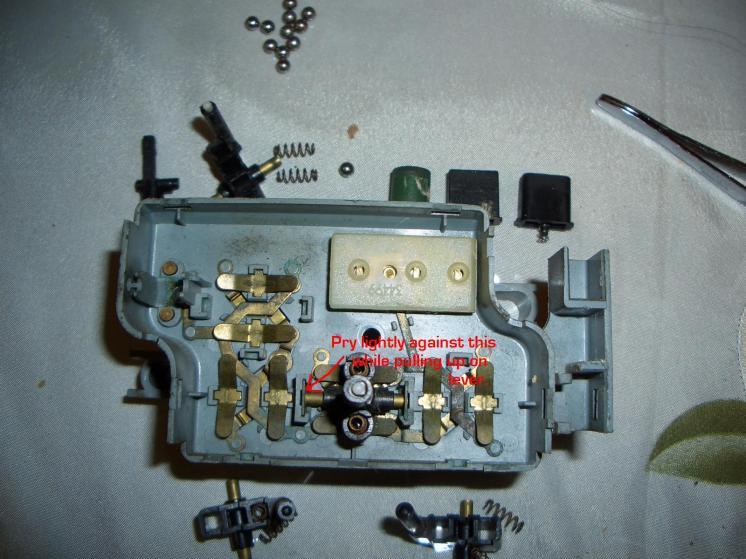 Discuss this DIY here.
-maurinquina
---
CategoryDiy