---
This is a how-to guide to replace the front shock absorbers on the 140 body, S-Class Mercedes in mid-late 90s model cars. This article is of my own making, and from my own research. If you use any of the material within then, like me, you're on you're own. You can't hold me or anyone else responsible for whatever, so if you don't feel comfortable doing this sort of mechanical work, then take your car to an authorized mechanic.
---
A while back when I acquired this wonderful automobile, I noticed the suspension was well, somewhat neglected. It had a ride like there was 100 lbs of air in the tires, rattling everything from my teeth to lose interior parts. Sort of like someone had replaced the shocks with cement.
But wait - when I bought it, it only had 65k miles on it, and just 6 years old! Was it really time for new suspension stuff? Certainly neglected by previous "lessee", but hey, it's still a Merc right?. So a little fishing around on this site and viola - suspension problems are not only common but are VERY easy to fix. It's almost a routine maintenance item. The rears are more complicated, plus the MB shop wanted quite a sum to do the rear accumulators (no shocks on the rear) - almost $1,400.00. My costs for the rear accumulators was about $300, and maybe the same amount for the fronts.
A few months back I got it up in the air, and replaced the failed accumulators along with some hydraulic lines. But here's the best part - there is simply no words, adjectives or diction I could place in writing that would describe what that little bit of work did for this car's ride. And my back. It went from race car hard to the comfort and luxury the S class 140s are known for, yet still gave me a sparkling sense of road feel - a combination only found on Mercedes. It was what they were designed for!
Confidently thinking I had solved all of middle Georgia's auto suspension problems, I did notice that although the rear of the car gave me that impeccable ride, there was just something in the front that I could not put my finger on. Something a little stiff maybe, even made the wheel shimmy at certain speeds. New Michelin MX4 Tires/wheels were balanced once again, but no difference. Until I drove a new 2004 S500 - then I knew.
Back to the task at hand - the front shocks. After 70K miles, the front shocks were apparently shot. Remember, it was a salt car from NY, and after all it is going on 8 years old. In the American car maintenance world, shocks are sometimes a 4 year item. So lets give these front shocks a try. You'll also be pleasantly surprised at how simple the procedure is on this car. Dirty, yes. Somewhat laborious, but amazingly simple. As an amateur I'm sure I went around the elbow to get to the thumb. But this is how I did it, and I certainly hope it will help all you DIY's out there that have been contemplating the same task. Good luck!
---
Top of the shocks stick up through the frame by the motor. Pop off all the plastic covers and there it is.
---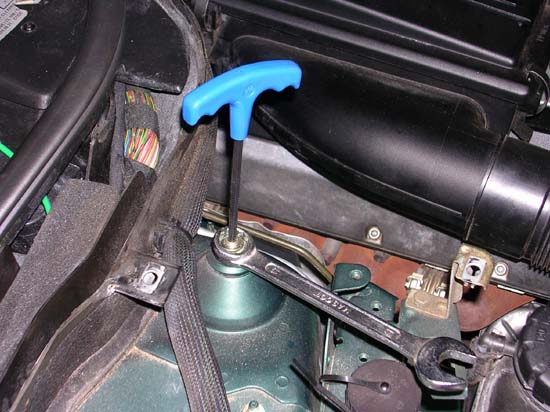 Holding the center of the shock pin w/a 5mm hex, loosen the bolt holding the top of the shock. My top bolts were a little stiff, but nothing like the bottoms. Do the top when there's weight on the tires so the springs and shocks are still compressed, and it all stays in place when you take off this nut.
---
Ok, next step. Jack up the front side you're working on, then make your life easy and take off the tire. As you jack it up and the lower control arms extend, the top of the shock will then pull down and out of the top socket since you just removed the top bolt. When the wheels get off the ground, that'll leave it attached only on the bottom. Here's the bottom of the shock as it attaches to the lower control arm. (notice my cracked boot back there?) The parts are slightly different for 129s, 170s 202s etc.
---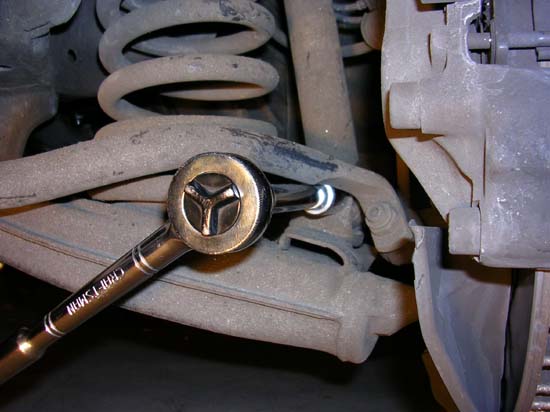 I put this 17mm on the nut side, and a box wrench on the bolt side to hold it. A little stiff, I had to use break-free on one side as I remember. I don't show it in the pic, but I actually used an air hammer for this one and it came right off. Notice brake calipers on right.
---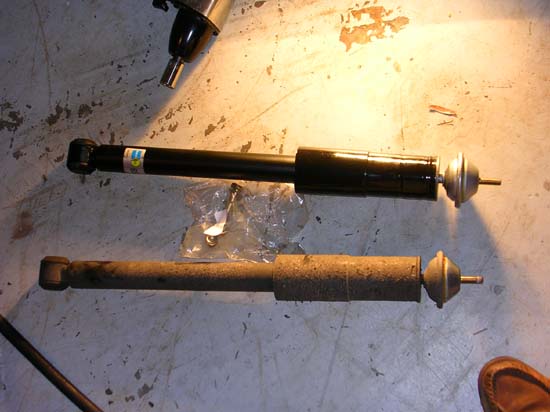 Pull out the lower bolt from the step above, and the shocks will come right out through the wheel well. Don't know why I took this pic, but here they are side by side, old one vs. new one. Notice the new shocks come w/new hardware, which I certainly used instead of re-using the old stuff. I suggest you order these shock-kits from Phil (see this site's "
Fastlane
"), I know he stocks Bilstein, which are OEMs. His cost was about 1/3 of the dealer's cost. That old one is one ugly looking piece ain't it? Playing around with it afterwards, when pushed in it always found a different home position. Not good. One of the old ones would barely move with all my 180 lbs. of weight on it.
---
After you bolt the bottoms back on to the lower control arms, torque them to 55 Nm.
CLICK HERE
for a good Nm-to-ft.lb conversion. I used blue Lock Tite. I kept the wheels straight when I did this, as turned one way you can't get to the rear, and turned the other you can't get to the front part of this bolt. It doesn't show it in the pic, but this nut is surprisingly easy to get to w/a 3" extension.
---
With the wheel still off and springs still extended, this will leave the shock ready and primed to go up into it's new home at the top of the wheel well. Notice I put graphite paste on the frame socket, but it's not necessary.
---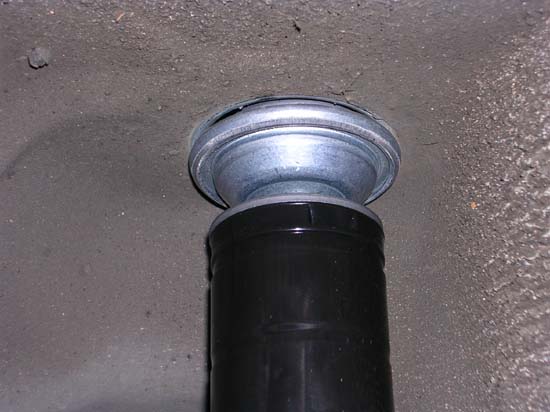 Wheel back on, drop the car down an up it goes!
---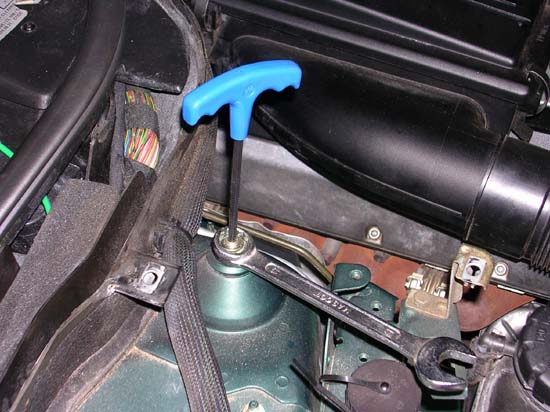 Do the tightening thing again, WIS shows 30Nm on the torque. If you want ft.lbs
CLICK HERE
. I also used blue on this one.
---
I got my tools off the motor and back in the box, and gave it a whirl not really expecting too much. Boy - was I pleasantly surprised! This simple task had done for the front of my 98 S500 what the accumulators had done for the rear! Even my wife noticed it with a big smile and a comment like "Wow - that's amazing". And, so far, no more shimmy at 55mph like I've been suffering for the last 7 months.
The front shocks on a 140 S class are really a simple task. Official shop labor is 2 hrs each side, so it could be worse. Enjoy!
---
Now - on to the next project...
Greg B
---
CategoryDiy