---
This is a how-to guide to replace the Sway Bar Bushings and Sway Bar Links on a 1998 Mercedes S500, aka body style "140". This article is of my own making, and from my own research. If you use any of the material within then, like me, you're on you're own. You can't hold me or anyone else responsible for whatever, so if you don't feel comfortable doing this sort of mechanical work, then take your car to an authorized mechanic.
---
As you know, our subject car is going on 8 years old, and about 70k miles. One of the first things I noticed was most of the suspension stuff was shot. In my observation, if you don't babysit this sort of stuff, it will come back and slap you with a vengeance. So, were trying to stay ahead of the game. In the auto world, I'd say Mercs have got to be the most intolerant of negligence of any auto you can find. On the other hand, well taken car of and they'll give you many years of faithful service and be the envy of all.
Sway Bars are also called "Cross Members" . Basically they prevent the car from leaning too much during turns, especially quick turns like steering wheel jerks to avoid road hazards and the like. The 140 is a very fluid suspension, and it dynamically all moves around in some fashion while driving. The idea is to give the passengers the best ride they've ever experienced. There's also rear sway bars, and some bushings back there that are a little easier to work with. Here, I'm just doing the fronts. Standard shop labor is 4.9 hours (both sides), just for the Sway Bar links/bushings.
Note that as soon as I did these bushings and links, I had all 3 lower control arm bushings pressed out and replaced (this I couldn't do - the tool is literally $32,000.00) so it was off to the dealer for one of the rare visits I was forced to make. And, to seal the envelope on the front end, I had the shop do a front end alignment. There - we'll see how this works. I'm off to put another 2k miles on the car in the next few weeks throughout the east coast.
I must add I did notice a difference after replacing the bushings. The old ones were actually clunking and allowing the car to lean, even as I was going straight down the road. These links and bushings fixed that in a hurry and I didn't even notice how bad it was until the new ones gave me a quiet surprise. So, yes it's worth it. Total cost of parts was less than $120.00 for both sides (see Phil on this site). Speaking of Phil, I'd like to credit his voice-only instructions as I tapped into his lifetime of experience of front end work. He's able to explain the procedure so well it makes it seem simple. I thought about his comments constantly while doing this and other little projects. Thanks, Phil!
Like the others, this little DIY is VERY laborious, and like most suspension/brakes stuff it's got to be the dirtiest chore in the book short of hydraulics. So this is how I did it, and I certainly hope it will help all you DIY's out there that have been contemplating the same task. Good luck!
---
Getting started - take off the tire. Take off the rotor, take off and hang up (NOT by the hoses) the calipers. I use a coat hanger but I've seen people that also use bungies. But they say if you put pressure/weight on the brake lines, you may as well replace them because they'll now pick the most inopportune time to fail or crack. Also not shown is the tedious task of taking off the lower rock cover under the radiator-which you'll need to do to get to the Sway Bar bushings. Frankly I cannot do this without jacking up BOTH sides of the car, both taking it off and putting it on. Maybe someone's got a better idea but there's only a few inches of clearance without the lift.
---
Here's the old one, showing some age. Can see it well, but the boot is cracked all the way around, and exposed the entire ball joint which had corroded and rusted.
---
Old, dilapidated and squished Sway Bar Bushing before it was removed. Notice the play and clearance around the bar. I could see daylight through the inside of the clamp.
---
I used a 6mm hex on this - at first I thought it was a torqx. Anyway, you've got to hold it while you loosen it. Loosen it with the spanner first, then go for it. Notice the floor jack directly under the control arm is starting to make it's way into the story, as I adjust it multiple times to get that perfect, zero pressure height. Theoretically, if there's pressure from a fully extended (against the lower stops) control arm, it'll fly off and probably stick in the wall or something. Again - just make sure you've got that 0 point figured out. No measurement can surmise it, you'll just have to feel for it. As I recall it wasn't much pressure, maybe 2" or so.
---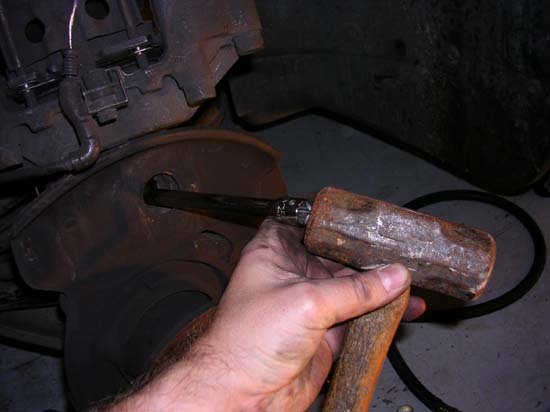 This is the top part of the Sway Bar Link, actually hidden behind the dust cover. I thought the dust covers were going to have to come off , but this worked fine. I whacked the back of the link with a hammer first to unlodge and loosen it, then the final whack was with a 1/2" extension with a good hammer and out it popped. Remember, with zero pressure it should pop out with a little encouragement.
---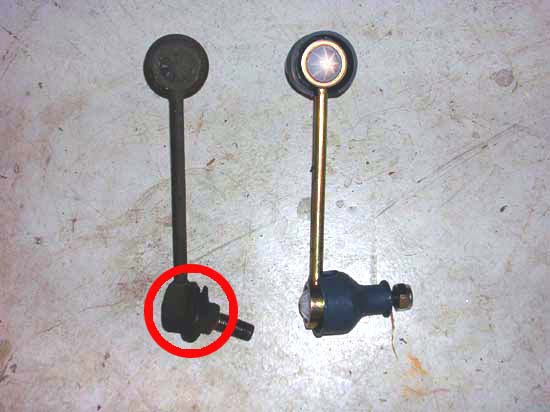 Here's the classic old vs. new picture. This boot was cracked. Corrosion was awful. Those grey-blue covers on the new one are just protective during shipping and must be removed.
---
Sway Bar bushing brackets before removal. This one is the passenger side - notice front Xenon headlight balancer control module, which bolts to the sway bar. Pretty good place for it because the sway bar is the first to move.
---
Go ahead and drop the Sway Bar, and grease it up for the bushing removal. You WILL get dirty.
---
Here comes the old bushing off the sway bar. Notice I just used a glob of Vaseline on the inside of the bar. A little work but it slid right off.
---
Another old vs. new. The old bushings look like they were 25 years old. Not sure how long the new ones will hold up, but at least a few years.
---
Here's the new one being fitted back on.
---
And it's back on and bolted in with the two 15mm bolts.
---
What a difference, huh?
---
Notice the 3rd bushing for the Lower Controls Arms (another story coming soon)Ok, now that the bushings are back in and bolted up, we can turn back to the end of the Sway Bar. Old link tossed in trash, work the opposite with the spanner wrench and the hex driver. Here's where you'll have to finesse the floor jack (shown at bottom of pic) to get it aligned just right. Remember, just be patient - it'll happen.
These Arm Links are NOT the same part for each side. Two diferent parts. The bushings ARE the same, however.
---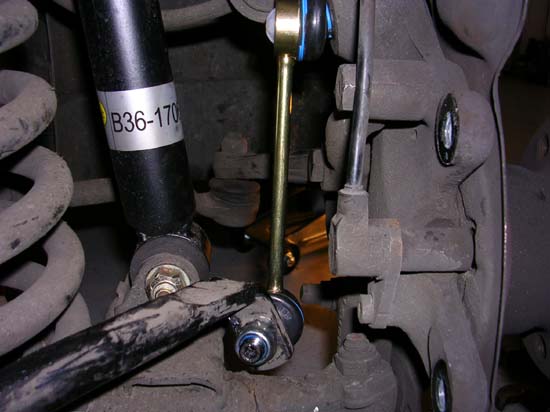 Top and bottom all snugged up on the new arm. Notice anti-skid sensor looks like it's in good shape.
---
Just the other side. Any new parts on the suspension look good don't they?
---
I won't go into a lot of talk about putting the brakes back together, but after you torque your arms and bushings (WIS shows 40 ft.lbs throughout), you're ready to start reassembly. Go ahead and have it aligned, unless you're going to wait and do the rear Sway Bars also - remember 140 alignments also include aligning the BACK end too. But we've really messed with a VERY sensitive front end that will manifest itself as shimmy, very ugly tire wear, or other even dangerous situations if not aligned after our escapades. So go have the alignment done - preferably at the dealer. I have a hard time taking this complex piece of work to a front end shop that has a hard time with a 85 Impala. Besides, around here the dealer is only $15 more than the others so that answers that.
As my parting, selfish cheap-shot, please take the time to check out
Jim F's site
. - his info has bailed me out enough to merit a good strong mention on any DIY. Way to go, Jim!
---
Now - on to the next project...
Greg B
---
CategoryDiy