---
Here's the Reader's Digest version:
Subject car is 1999 W210
1. Remove door lock knob
2. Remove small Phillips screw and plastic cover
3. Pry out plastic "SRS" cover and remove large sheet metal screw behind
4. Pry out round plastic cover, remove large sheet metal screw behind
5. Pry out puddle light cover, disconnect light
6. Pull out door handle, remove plastic cover, remove large sheet metal screw behind
7. Pull lower section of door panel out, entire panel will lift UP after all clips at perimeter of door panel have been released
8. Disconnect door latch cable hook and plastic cable from guide, disconnect wire from control module at top right corner of door
Locking tabs around perimeter of panel: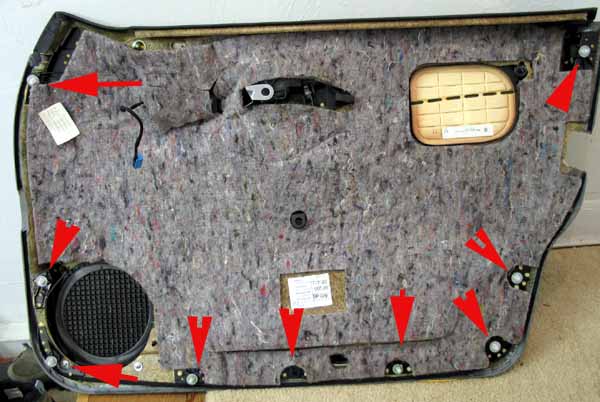 My car has two different styles of tabs. The tab on the left incorporates a small gasket and is used at the base of the door. There are three of this type.
My panel comes off pretty easily...several clips are missing and I need to order some of each style.
The driver's door on this car is a bit of a mess internally. Somebody backed into it a few years ago and the dealer performing the repair work was piggy about the repair, if I may. The insulation pad is missing from the door cavity and the door sounds like a tin can when closed. On top of that, my driver's window "popped" yesterday and I had to remove the panel a 2nd time. (These pictures were taken a few weeks ago).
Here's yesterday's mess:
I re-attached the mechanism using three short screws inserted from the backside. I can't decide if I am going to declare this a "permanent" fix. I cannot believe how shoddy the assembly is. This mechanism may have been riveted in place previously during another repair attempt. Much to my suprise, the window functions flawlessly apart from the pinch protection which I can't seem to reset.
Discuss this DIY here.
-uberwgn
---
CategoryDiy