I must start out by stating that this community has been wonderful at getting me the information I have needed to get my old Benz back to shape. I just completed adjusting the wastegate, and wanted to share my technique for others who may be looking to do the same thing. While I did find the info I needed here, it was literally hours of searching to find all the pieces of the puzzle for me to complete this. I am hoping this post will put all the info in 1 place to make it easier for all.
The wastegate is a mechanical safety designed to limit the amount of boost from your turbo. Sure, boost is great - after all it's what the turbo is designed to create - but too much boost can be detrimental to your engine. It is generally stated that a stock OM603 can safely handle only up to about 15 psi of boost - and only for short periods of time at this pressure. The stock wategates were set at about 13.5 psi - meaning that if the turbo boost began to exceed 13.5 psi, it would open a flap and dump the excess boost out the exhaust rather then divert it into the intake. This essentially stops the turbo from being able to deliver any more than 13.5 psi to the intake.
The reason for checking and adjusting the wastegate is that over time, the spring which keeps the wastegate flap closed gets weak. When new, the spring had enough tension to keep the wastegate closed until the pressure reached about 13.5 psi. As it ages and gets weak, it begins to open at lower pressures. This dumps the precious boost your turbo is making right out the tailpipe. Adjusting the tension on the spring can bring it back within specs, returning the functionality of the system and allowing your turbo to feed pressure back to the intake. This will potentially restore lost power, improve fuel economy, and provide more air to fully combust the fuel mixture (which may also help reduce black smoke emitted from the exhaust).
Being a novice, it took me about 3 hours for this whole process. With this tutorial I believe you should able to get your wastegate dialed-in in under an hour (including clean-up).
The only 4 tools needed are:
1. 10mm socket & wrench (I used 1/4" drive, but you should be able to get a larger one in there, there is lots of room)
2. 3mm Allen Wrench
3. Vice Grip (pre-adjusted to lock-onto the 10mm socket)
4. Boost or pressure gauge w/6 feet of vacuum line
Before you begin, it would make sense for you to test the current boost your turbo is putting out to see if an adjustment is really necessary. I used a simple 15 psi pressure tester I bought for $25 at the auto store (it was designed to check vacuum lines and fuel pressure). There are many boost/pressure gauges that go up to 20 psi. That is probably ideal, though you don't need to measure more than 15 psi. I would caution against gauges that read much more than 20 psi, as it gets difficult to accurately measure the 0-15 psi range on the higher psi ones.
To hook up my gauge, I added a "tee" to the line coming off the intake, then ran the 6 foot vacuum line thru the firewall and into into the cab where I attached the gauge so I could see it while driving. Here is where I tapped into the lines to get my boost readings: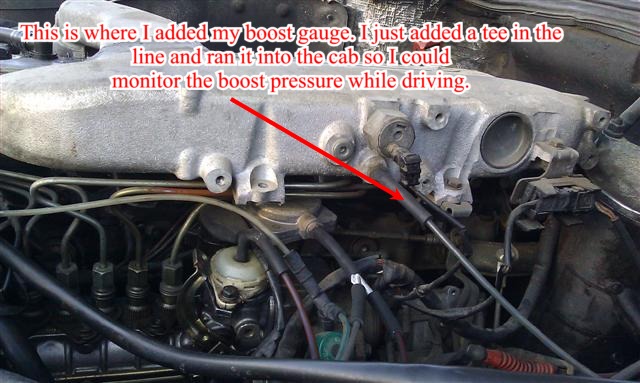 Once that is done, take the car for a drive. You should let it warm up to normal operating temperature and then find a place where you can do some runs at Wide Open Throttle (WOT). If you can find a place where you can do this uphill, even better. The reason is that you need the car to be under load when reading the boost pressure. This will not work by revving the car in your driveway. As you drive, you should see little to no boost at low RPMs. As you hit 2000 RPMs, the boost meter should start to climb, and should continue to climb as your RPMs increase. The boost will probably max out around 4000 RPMs. You will likely see it spike a bit after each shift. That is normal. What you are looking for is the upper-limit of the boost pressure generated during these runs. I am told stock boost should peak at around 13.5 psi. On my initial runs, I was only getting up to 9 psi. If you find you are not reaching proper boost, then prepare to adjust the wastegate as described below. Bring it back to your workspace, open the hood, and let it cool down a bit (the area you will be working in will be very hot).
First of all, I want to show what the KKK turbo looks like, and where it is on the car so you can determine if your unit is indeed a KKK. If not, you will need to find the procedure for adjusting the Garrett wastegate.
Here is a photo of what the wastegate looks like (This is a unit that has been removed from the car, so you will not see it like this, but it will give you a good idea of what you are looking for and how it is designed):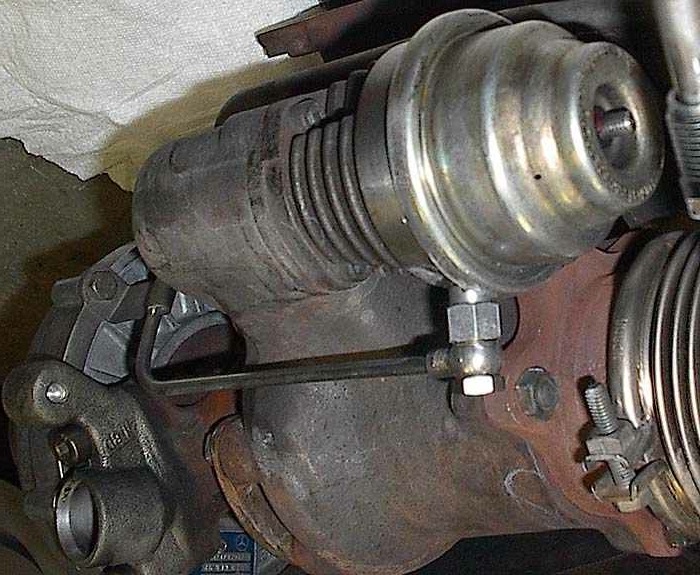 To find where it is on the car, you will want to look here: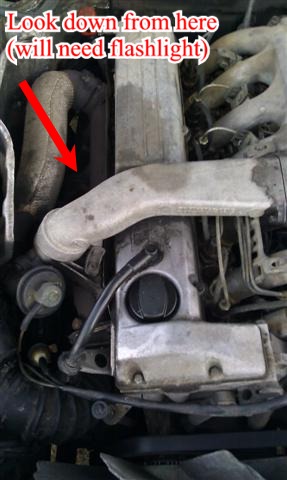 As you stand on the Passenger side and look over the fender in the area shown above, you will be able to barely see the wastegate. Here is what you should see: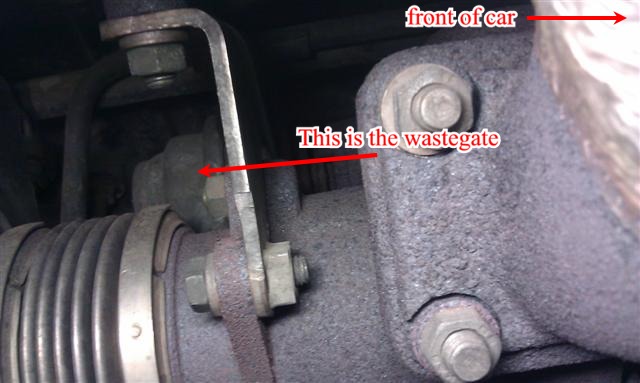 If you found it, then you have the KKK.
I spent 20 minutes trying to get a wrench onto the wastegate from above, but had no luck getting into the tight space. Finally, I decided to try from under the vehicle, and access was very easy this way. I went under from the front, till my waistline was about even with the bumper. As I looked up, I saw the wastegate from below. If you go from the angle I suggest, it should look like this:
Once there, I simply reached up and loosened the lock-nut with the 10mm socket wrench. Loosen it at least a few turns. As you can see, there is a fair amount of room from here:
Once it is loose, you will want to take to socket off the wrench and clamp the vice-grip to it. Place the socket back over the locknut on the wastegate, letting the vice-grip hang as close to the engine block as you can. It should stay there without you needing to hold it. Now, you can stick the allen wrench thru the hole in the socket and into the adjustment post (which is on the end of the bolt that the lock nut is attached to) . Turn it clockwise about 3 full turns. (3 turns to start out with seems to be the common consensus. You will not likely get it adjusted perfectly the first try - this is a trial and error thing). As you turn it, you will notice the vice-grip & socket trick will keep the lock nut from turning as you turn the adjustment. (I went thru this process 5 times without the vice-grip before I realized that I never actually made any adjustment because the lock nut was turning too).
Once you have made the adjustment, put the socket back onto the wrench and tighten the lock nut. This does not need to be cranked down hard - just snug it up. Now it is time to take a test drive...
Get back in the car and go to your spot for some WOT runs. Watch the boost gauge and see if you have any different results.
NOTE: Make sure your boost does not exceed 15 psi. This could cause severe damage to your turbo and/or engine. If it goes over 15 psi, prepare to keep the RPMs low and immediately get to a place where you can adjust the wastegate back out.
For me, after the first adjustment of 3 turns, I only got to about 9.5 psi of boost - but I noticed the pressure was building earlier. Since I was still not at my target boost, I went back to the garage and cranked the wastegate in another half turn. Again, be careful when going back to make an adjustment, as the turbo area will be hot. I only needed to let the car cool about 5 minutes to make subsequent adjustments, but I had to be very careful where I placed my hands so as not to get burned.
The next set of runs showed more improvement. I was getting up to 11 psi now and I could notice the difference in power. I went back to the garage and adjusted the wastegate in another half turn.
Now my boost peaks at a bit over 12 psi, and the boost spikes I get during shifting get right up to 13.5 psi. The car is more responsive, and I am getting much less black smoke at WOT. I have no interest in bumping it up any more, and I would strongly caution anyone against going beyond this point with a stock engine. From what I am told, anything over 13 psi generates LOTS of heat and can start to do damage quickly. While it may be "safe" to boost up to 15 psi for very short periods, unless you are going to keep a boost gauge and pyrometer (Exhaust Gas Temp) gauge I wouldn't go there. The power gains will be very minimal, and the risk of wrecking your engine is just not worth it.
The hours I put into this was well worth it, and I am hoping this tutorial will assist some in getting it done quickly and easily.