Hello, first post. Have a 1999 C280 (w202) Sport.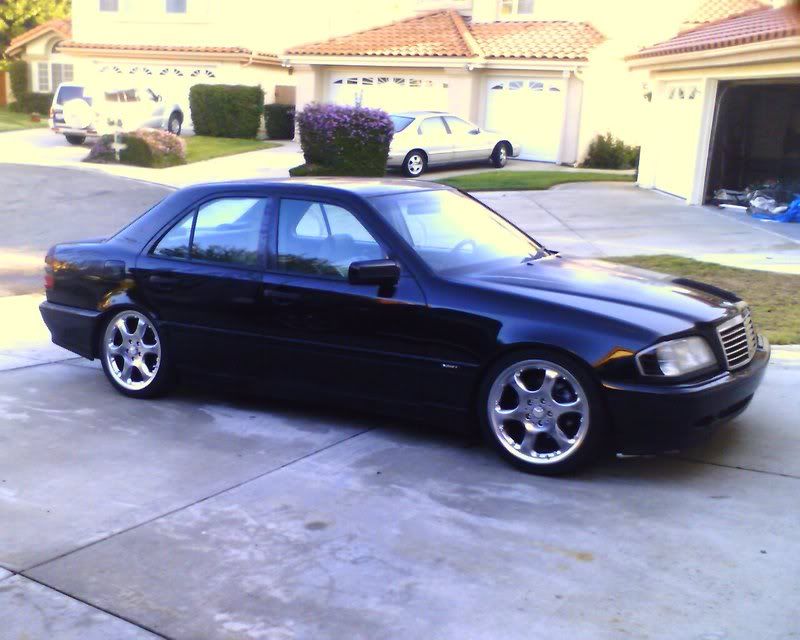 Sorry for the horrible cell phone pic, I haven't cleaned her up in months!
She's my beater/DD, just actually sold her to my parents to free up some cash and trying to fix her up since my girlfriend busted the pass. mirror. Got a good deal on w210 blinking mirrors, $200 shipped.
Dropped about 2" all around on Koni springs, about 1/4 coil cut in front to get a nice rake. 18" reps, LED boards under stock tail lenses, and my clear corners were junk so I just blacked out the amber on my stockers. Looks gay but I really don't care. BUnch other little things, grille, flat hood emblem, used to have a monster suede trunk setup with 2 12"s, blah blah blah. It's sold but with my parents driving it, I'll still tinker with it from time to time.
As mentioned, I just got a set of w210 blinking mirrors. Chopped the old w202 mirror harness off and soldered it to the w210 mirror harness.
The circular connector that comes out of the drivers side door (w202) is has 4 wires, 2 for dimming, and 2 more that go nowhere... a yellow and a green IIRC.
what are the yellow and green for??
The circular connector from my old w202 mirrors only have the 2 pink dimming wires, and nothing for the yellow/green wires...
Anyone know? I haven't wired up the blinkers yet, or pulled the door panels off... Just wondering so I don't have to keep pulling the mirrors on and off and going to town with the soldering iron...
Thanks in Advance,
Armand