hey everyone,
I have a few questions for the experts:
I really havent driven my 2.6 a whole lot this summer (maybe 250 miles total). I put gas in it back in may and a few gallons here and there when needed but not a full tank since may. I've noticed some spots on my driveway. they appear fairly dry when i notice them. Not oily at all and dont have much of a smell to them. I think they might be coolant somehow. I checked the reservoir and it appears about 1/4" below the mark. I filled it up to slightly above the mark, ran the engine and I might have been wrong..I uncapped the tank and the level was pretty high almost to the cap and overflow let off area. So I imagine that if the engine gets to 100C (a/c stop n go traffic) that it can get up to there and let some into the overflow tank.
That still does not explain these marks. Oil is right where it should be in the middle of the two marks. The coolant (as far as I remember) has always sat so its is just barely visible by looking down the hole.
Another thing was after I let the engine run until it was at 80C..I put my hand to the exhaust and after a short time my hand was (obviously warm) a little moist. No smell but just moist. The past oil changes have always been just that oil. Here is a sample of the coolant I took today after the 80C run.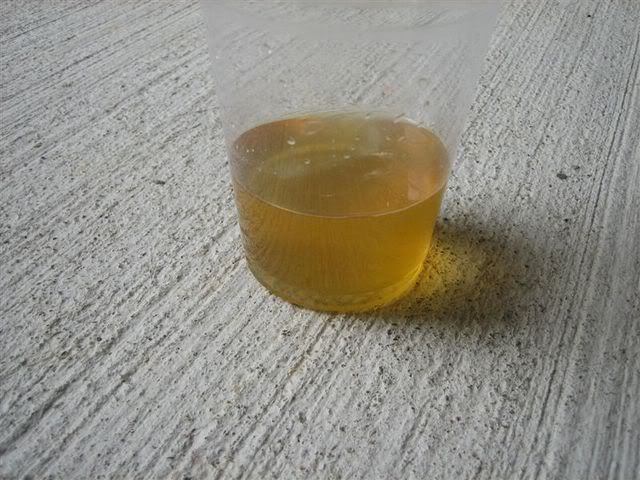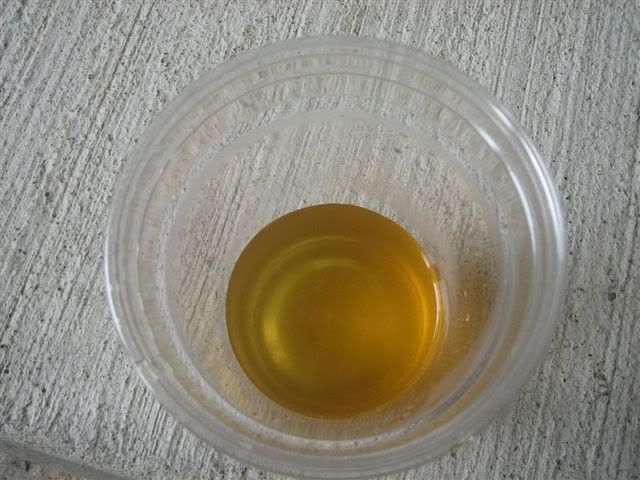 I dont see any oil in there. It just looks dark...my exhaust tips are somewhat bend downward from an accident so maybe rain could have entered into the tips. I dont know. The engine has 204k on it.
If it is the headgasket, I know the gasket itself is ~50. What would you think a decent shop would charge? With the head off what else should be done? Valve stem seals, chain, guides, tentioner, port & polish? What do you think all that will run me?
Thanks Guys,
Kris
EDIT: maybe i should send a sample of my oil to one of those lab places?
EDIT2: I believe the marks to be oil. I just hosed down the area my car sat in because as I was adding coolant to the tank I spilled some. The marks are oil as the water just pooled on top of them and didnt wash them away. It doesnt appear to be a major oil leak. I have two 617s that spot the drive way quite a bit.