03-17-2000, 02:09 PM
Retired Webmaster

Join Date: Mar 1999

Location: Johns Creek, GA, USA

Posts: 5,013
Car: 1952 Mercedes-Benz 300 SL 1-194 Roadster
Owner: Robert G. Sirna
From: Rochester, MN

In 1952 Mercedes-Benz returned to motor racing with a sports racing car based on their 300 series sedan. It incorporated several innovative design features including the first lightweight triangulated tube frame. These cars created a sensation and won at LeMans, Bern, Nurburgring and the Mexican Carrera PanAmericana.
For several races, including Nurburgring and the Carrera PanAmericana, the factory made special roadster bodies or cut off coupe tops and entered those as roadsters. Chassis #09 was such a car. It raced as a coupe at LeMans and as a roadster at Nurburgring and the Carrera PanAmericana. At the Carrera PanAmericana, John Fitch was the driver, accompanied by mechanic Eugen Geiger. After the 1952 racing session many of the cars were disassembled and the parts or subsystems were used for engineering development. Factory records show that Chassis #09 was disassembled and used as a test mule. Parts of it may have been used to build the first production roadster prototype.
At the current time the Mercedes-Benz Factory Museum has three 1952 300SL W194 "Gull Wing" coupes. Two other chassis were re-bodied and sold as production Gull Wings. None of the 1952 300 SL W194 racecars with roadster bodies were saved after racing session.
This car is an accurate recreation of the car raced by John Fitch in the Mexican Carrera PanAmericana as number 6. It has the only 1952 M194 factory racing engine that is not in the hands of the Mercedes-Benz Museum. In building this car we elected to install all the modern safety-related subsystems that have made racing today so much safer than racing in the 1950's. The car has a fuel cell, removable roll bar, fire bottle, electrical shut-off, six-point safety belts and dual brake master cylinders. It is presented here as true to its 1952 configuration as possible without the roll bar, headrest and the shoulder belts.
The Lime Rock Vintage Festival in Lime Rock, Connecticut September 4, 1999 with John Fitch as the driver, was the first showing of this wonderful racecar. A 1952 Mercedes-Benz W194 300SL Roadster had not been seen in North America since November 1952. The car will be shown this June at the Goodwood Festival of Speed. John Fitch will drive it in the hill climb.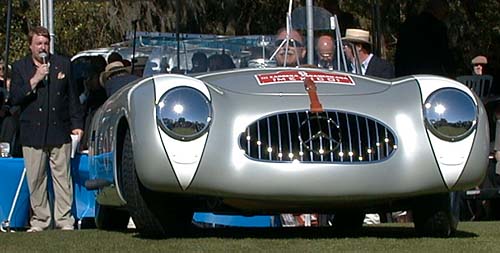 Photos by Bill Wood
2000 Amelia Island Concours d'Elegance
Nikon 900S
------------------
Bill Wood - Webmaster
MercedesShop.com, LLC

[This message has been edited by Webmaster (edited 03-18-2000).]